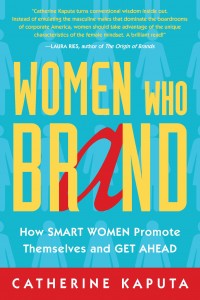 How Smart Women Promote Themselves and Get Ahead 
With a downloadable discussion guide for women's groups
Personal branding is a very powerful career tool that savvy women (and most men) capitalize on to reach their goals.
Yet it is something that women haven't utilized as much as men have, and that's something we must change.
In Women Who Brand, you'll learn about important new findings in gender research and female aptitudes. You'll get new insights into why it's different for women in business.
Most important, you'll learn how to harness all your assets to build a successful career identity – your brand – that's authentic, different and relevant.
Have A Taste
Here are some resources to get you acquainted with Women Who Brand.
Press and Praise
Kaputa, a marketing and branding whiz, mines anecdotes from successful women and her own personal experience to sell readers on themselves-rather than trying to be "one of the boys," Stuffed with self-evaluation materials, direct advice and exercises, Kaputa has put together a useful, well-organized primer.
Publisher's Weekly
"In my books, I write about strong women and how they achieve success. In Women Who Brand, Catherine Kaputa shows how you can do it for yourself."
Barbara Taylor Bradford, Author of A Woman of Substance and Being Elizabeth
"Women, you have more power in the workplace than you may know. Whether you need a total career makeover or just a little refining around the edges, Women Who Brand will show you how to get ahead while staying true to yourself. Empowering, insightful and fun to read."
Clinton Kelly, Co-Host of TLC's What Not to Wear
"Catherine Kaputa turns conventional wisdom inside out. Instead of trying to emulate the masculine males that dominate the boardrooms of corporate America, women should take advantage of the unique characteristics of the female mind. A brilliant read and a brilliant strategy."
Laura Ries, author, The Origin of Brands