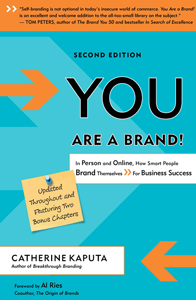 3 book awards

Translated into over 10 languages
Top 10 Business Training Book in China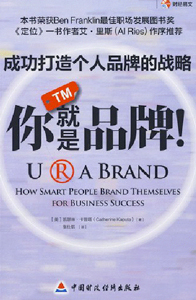 Expanded Second Edition
Now in an expanded 2nd edition with new stories, tips and principles on branding yourself in person and online, with an online assessment tool and a downloadable discussion guide for reading groups
Self branding can be subtle or heavy-handed, tasteful or obnoxious, out-dated or up-to-date. But if you don't participate you will be left behind. Self branding can help you bring maximum benefit to your company and maximum benefit to your most important asset – You.
Find Your Personal Brand With Our Assessment Tool
The Personal Brand Assessment is an online questionnaire (120 questions, about 30 minutes) designed to measure personal psychological preferences, particularly in terms of how people approach social and professional dynamics.
Use the tool in conjunction with You Are a Brand! 2nd Edition, particularly chapter four's detailed discussion of Ten Personal Brand Strategies. (The URL for the assessment tool is listed at the end of chapter 4.)
The Ten Self-Brand Positioning Strategies are:
1. The Innovator
2. The Leader
3. The Maverick
4. The Identifiee
5. The Engineer
6. The Expert
7. The Client Advocate
8. The Elitist
9. The Heir
10. The Crusader
Press and Praise
"The idea of self branding is Not Optional in today's insecure world of commerce. You Are a BRAND! is an excellent and welcome addition to the all too small library on the subject."
Tom Peters, Author of The Brand You 50 and bestseller In Search of Excellence
"There's an old proverb that says 'You eat life or life eats you.' Catherine Kaputa and her brilliant ideas on self branding shows you how to be the diner and not the entrée."
Jay Conrad Levinson, Author of "Guerilla Marketing" series of books
"Each individual is an important contributor to the success of any corporation. Catherine Kaputa's insightful book shows you how to fully realize your potential and how to give yourself and the company maximum benefit."
Bill Roedy, Vice Chairman, MTV Networks