I'll tell you why I like mavericks, they are hard to predict, and a continuous source of surprise and breaking news.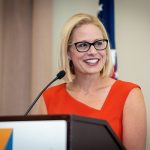 Today, Kyrsten Sinema didn't disappoint. She got everyone's attention when she announced that she is leaving the Democratic party and becoming an independent.

Here's what she said in her written announcement:

"We [Arizonans] make our own decisions, using our own judgment, and lived experiences to form our beliefs. We don't line up to do what we're told, automatically subscribe to whatever opinions the national political parties dictate or view every issue through labels that divide us."

As much as business titans, political leaders, and celebrities are part of the mythology of this country, so are mavericks. (Think Tom Cruise as Pete "Maverick" Mitchell in Top Gun: Maverick.)

We have a soft spot for the rebel—the lone defiers of convention, the irreverent ones who don't follow the rules but accomplish remarkable things, the outliers who cut their own path and succeed.

If you've got the chutzpay to go against the crowd, positioning yourself as a maverick can be a powerful positioning strategy for you too.

Maverick positioning is one of the top ten personal brand positioning strategies I discuss in my new book, The New Brand You: How to Wow in the New World of Work.

Executing this personal brand positioning is simplicity itself: Everything the traditional leader stands for in your industry, you are the opposite (within reason).

It's easy to follow what everyone else is doing. Like Sinema, you don't believe that
success comes from doing the expected.

Look at the culture on Capitol Hill where Sinema "works." It is a place known for its traditions, rules and protocols. The women usually dress for subtlety. It was not a place for mavericks in eyebrow-raising clothes, until Sinema, came along.

She likes to stand out. At her Senate searing in, she was reminiscent of Marilyn Monroe with her platinum curls and stilettos.

She's a free thinker and not a fan of convention, either in clothes, hairstyles or following along party lines on Democratic initiatives. Now she won't have to do that.

It will be interesting to see how her maverick antics play out when she's up for re-election in 2024. But as a maverick, she is hardwired for challenge, the more ambitious the better.