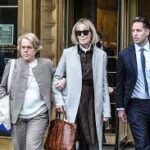 Brand builders use a range of visual tools to create an emotional bond with customers: shape, color, design, imagery, logos and the like.

It's the same with people. That's why my advice to people is: Let your clothes talk. As I point out in my new book, "The New Brand You," strong visual identities are a quick read telegraphing to us what a person is like (or so we think).

And clothes are one of the easiest ways to communicate a message about who you are. Clothes can offer more insight than what you say. Look at E Jean Carroll at her trial accusing former president Donald Trump of sexual assault and defamation.

In a trial, you win or lose on how a jury sees you and whether they believe you. The perceptions of others are the perceptions that count.

79-year old E Jean Carroll looked elegant, attractive and professional during her days in court On day one, she stepped out in a black shirtdress with a cream coat and pearl earrings. And she continued with her subtle style that was somehow both soft and strong. No flashy jewely or colors. A trial is a serious matter and her clothes communicated that.

She won her case on key charges and awarded $5 million.

Rarely has there been as educational an example of the transformative power of clothses and visual identity as the radical before-and-after makeover of Elizabeth Holmes during her fraud trial in 2021.

The CEO of Theranos, with its miracle medical product, Holmes went from the appropriation of Steve Jobs' black turtle neck, beautifully accented with kabuki red lipstick and sleek blond hair.
Yet her trial wardrobe was the opposite. She went from glam to nondescript business casual shirts and skirts and soft curls.

In short, she went from Superwoman to the Girl Next Door. In Holmes case, visual identity can only take you so far. Jurors must have a reason for the transformation, and in Holmes' case, they may have felt played.
Your visual identity has to sync with your actions or there is a brand disconnect. As we all know, she lost her case and found guilty of fraud.