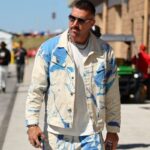 a
Strong visual identities are a quick read. And clothes are one of the quickest ways to communicate a message about who you are. Clothes often offer more insight than your words.

Stylish clothes are a personal branding tool not lost on celebrities, but move over Kardashians, now there's Kansas City Chiefs tight end Travis Kelce.

According to the Wall Street Journal's "On Trend "column this week, "Before his cleats touch grass on a game day, before he laces them up, Kelce said he takes at least three hours to pick out an outfit for walking into the locker room." At last year's Super Bowl, Kelce chose a Louis Vuitton patchwork overcoat. His goal he says is to bring a smile to someone's face.

Now that he's dating Taylor Swift, he's upgrading to a $5 million dollar home in Kansas City. No doubt we can expect a sartorial step-up, too. His wardrobe with its 300 sneakers and scores of outfits, is stashed in a spare bedroom in his current house, but I'm betting his wardrobe is about to undergo the Swift treatment.

Don't think clothing selection is a superficial thing. I used to think that dressing for success just made a difference in how other people see you. "Clothes make the man," as Shakespeare says. But clothes can do even more than that, as I cover in my new book, "The New Brand You."

What you wear can make a difference in job performance. You perform better because you feel more confident and powerful when you feel that you look good. The power of clothes as PR and performance booster seems to be working for Kelce. He is considered to be one of the best tight ends of all time, and he leads his team in receiving yards.