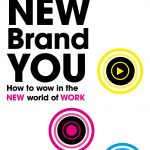 Things are not so happy on the job front these days.

After reaching its highest levels in 2020, employee engagement declined for the second year in a row according to a new Gallup study. Engagement, a key measure of job enthusiasm and involvement, is important because low engagement often results in quiet quiting that fosters employee unhappiness that often leads to job hunting.

Not surprisingly, Gallup's survey of 60,000 people reported that 57% thought that it is a good time to look for a job.

Better than being a lethargic employee, better to do something about it. Analyze your grievances like better in-office policies and develop your target list.

You'll also need a good pitch, a focused pitch that will get you noticed. In my new book, The New Brand You: How to Wow in the New World of Work, I outline the Top 10 Personal Positioning Strategies to stand out from competitors.
1. The Innovator: Are you a creative problem solver? Give examples
2. The Leader: Is your strength your ability to lead people and get things done? List key accomplishments
3. The Maverick: Do you have an unconventional approach that produces results? Share the ways.
4. The Superman: What's the one strength you have in spades? Focus on this one attribute.
5. The Engineer: Are you adept at tweaking and improving things? Share your new processes you set up on the job.
6. The Expert: Are you an expert in one, important area? Focus on it.
7. The Target Marketer: Do you have a strong customer service orientation to one group of customers? Share the advantage in your job
8. The Elitist: Are you among the top tier in your line of work? Play up your elite credentials because not many people can claim them.
9. The Heir: Do you have a unique heritage and connections? Fit them in the interview narrative.
10. The Activists: Is there a special cause that you are passionate about that is important in your industry too? Demonstrate the power of commitment to a cause.

Focus on the best positioning that plays to your strengths and go for it. Imagine your best future with the flexibility, culture and opportunities you crave.