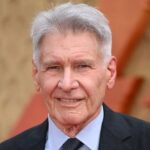 How come silver-haired male stars are hot, but the older women, not so much? A recent WSJ headline said it all: "Harrison Ford is 80. He's Proof: Silver-Haired Stars are the new Box Office Gold."

Harrison Ford is back as "Indiana Jones." Tom Cruise (60) stars in "Mission Impossible." There's Arnold Schwarzenegger (75) in "FUBAR" and Denzel Washington (68) in The Equalizer 3." And Kevin Costner(68) stars in "Yellowstone."

This silver-haired pack is successful not only because they are reviving beloved franchises, they ooze sex appeal.

Silver hair is not such an asset for women, though, especially in the corporate and media worlds. A year ago long ago Canadian news anchor Lisa La Flamme (58) says she was fired over letting her hair grow gray. Look at the young, attractive women who are the reporters and anchors on news shows in the U.S.

Looking back, Anne Bancroft was only thirty-six when she played the "older" woman, Mrs. Robinson in "The Graduate." And Duston Hoffman was just six years younger and played someone her daughter's age.

Feeling depressed yet?

There's a lot to be said for ageing gracefully but it can be harder for women. Men with silver hair or no hair are often viewed as hunks but it's less likely to happen to women. I'm all for trying to dial time back a bit by camouflaging gray hair and ditching the matronly clothes.

But nothing ages a woman more than desperately trying to look young.

There's a way to do it. Look at the fashion attention that Iris Apfel has received. She's hit 101 and has become a "geriatric starlet" with her bold clothes and oversize eyeglasses. She's been transformed from a private person who did her own thing with clothes to a fashion icon who others consider a style authority and who's being asked to judge fashion competitions and represent brands.