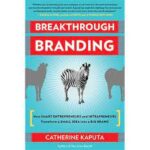 What animal signifies Brand You?

Often in doing a brand assessment, asking focus group participants to identify what animal or car they associate with a brand is more enlightening than traditional analytical methods and questions.

Symbolic associations can be powerful branding. We all know the symbol of the United States, the bald eagle – it conveys power. But the bald eagle was not the only animals our founders considered. Other animal imagery debated was a cow with horns, a goose, a bear and a white-tailed deer. (See Stuart Halpern's interesting article about the search for a symbol of the United States in the Wall Street Journal: July 1 – 2, 2023.

Even the British got caught up in the branding suggesting a zebra with 13 stripes, each symbolizing a state with Massachusetts strategically placed on the animals behind.

The eagle's imagery had staying power and strong symbolism with 13 arrows in one claw and an olive branch in the other. Its powerful wings became a stymbol of liberty. Prominent on the eagle's breast was the motto E pluribus unum Out of many, one.
The bald eagle also satisfied Benjamin Franklin's desire for a native American bird representing America's courage in breaking away from Britain.

So what animal represents you best. To find out what animal your strengths are most aligned with, take our animal assessment test https://www.selfbrand.com/tools/animalQuiz.html